You have one day in Bangkok and want a list of things to do. What are the places you shouldn't miss? This 'Top 10 Short Things to Do in Bangkok' offers ten good starting points. Choose three, five, or try to fit them all if you feel up to it, and get a feel of what Bangkok is all about. The selection below has a good mix of cultural and leisure activities, each with recommended times to visit.
As any seasoned visitor would tell you, Bangkok is 'an all-out attack on the senses'. The bustling city is a combination of weird and wonderful sights, sounds and smells. We find it fascinating and we're sure you will too. Have a look at the places just waiting to be discovered by visitors.
Interested in this tour? Book it here.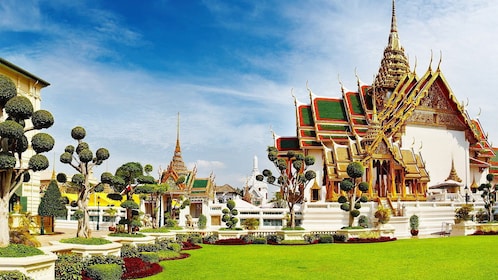 per adult
Free cancellation
Book
Built in 1782, and for 150 years the home of the Thai King, the Royal court and the administrative seat of government, the Grand Palace continues to have visitors in awe with its beautiful architecture and intricate detail. Wat Pra Kaew enshrines Phra Kaew Morakot (the Emerald Buddha), the highly revered Buddha image meticulously carved from a single block of emerald, dating from the 15th century AD. Read More...
Forget the over-crowded ferries. Forget the tourist hordes, the overpriced souvenirs, the whole money-making charade. For a real sense of how people in Bangkok used to live, in stilted shacks, old wooden townhouses and dilapidated lean-tos – and still do – try them Bangkok Thonburi Khlongs. Read More...
The impressive silhouette of Wat Arun's towering spires is one of the most recognised in Southeast Asia. Constructed during the first half of the 19th century in the ancient Khmer style, the stupa showcasing ornate floral pattern decked out in glazed porcelain is stunning up close. Apart from its beauty, Wat Arun symbolises the birth of the Rattanakosin Period and the founding of the new capital after Ayutthaya fell. Read More...
A must do when in Bangkok is to venture down to Chinatown for food. At the old market, you will find some of the city's best tasting and most reasonably priced fare. From the obscure (birds nest soup) to the ostentatious (Peking duck) to rare delicacies (roasted chestnuts), there will be something to enlighten your taste buds and provide a feast for the eyes. Read More...
Gone are the days of chilling out in a hotel lounge after sunset. Hit the rooftop of the iconic State Tower's Sirocco or the Banyan Tree's Vertigo and Moon bar and claim your first-class ticket to the most amazing sunset vista Bangkok has to offer. From this height, the hustle and bustle of downtown feels like a distant hum, while the glittering skyline, a backdrop before which romance unfolds. Read More...
Asiatique has successfully combined two of the most popular shopping experiences in the city: a night bazaar and a mall. Ten minutes downriver from Saphan Taksin BTS station this once-bustling international trade port has been transformed, with over 1,500 boutiques and 40 restaurants housed under a huge replica warehouse complex. Open from 17:00, spending an evening here is no problem: you'll have good fun browsing the boutiques, picking up gifts or something for yourself; you are guaranteed to find something you would like to eat and if this isn't enough entertainment, shows are performed nightly: Calypso ladyboy cabaret and soon, a classic Thai puppets performance. Read More...
Parallel to Khao San, Rambuttri gives you a taste of how Bangkok used to look before all the skyscrapers arrived. Leafy banyan trees shade the pavements and the vibe sways more towards local than backpacker, despite a number of them now choosing to stay here rather than on the famous street itself. Read More...
Feel the magic of Chao Phraya River at sunset. As the sky turns from tawny gold to twilight, life along the riverbanks seems to slow down, and its beauty takes on another dimension. Embark on a dinner cruise in a restored teakwood boat or luxurious yacht and watch as the skyline unfolds along the Chao Phraya, from Wat Arun's iconic silhouettesto Saphan Bhut's strong industrial lines and the Grand Palace's graceful curves. Read More...
Soi Cowboy was named after the cowboy hat-wearing African-American who opened the first bar here in the early 1970s, this red-light district has a more laid-back, carnival-like feel to it than Patpong or Nana Plaza. Flashing neon lights up a colourful streetscape comprised mainly of middle-aged expats, Japanese and western tourists, and of course a lot of girls with cries of 'helloooa, welcome!' Read More...
Bangkok's electrifying nightlife scene has been rated as one of the best in the world. Much has changed since the early days of go-go bars and clubs. While Soi Cowboy, Patpong and Nana slowly fade into the background, Khao San, RCA, Sukhumvit 11 and Thonglor have emerged as the most-happening places after sundown, where international DJs rock the house with their latest mixes. Read More...
Rate This Place:
( votes)