The Old City district in Bangkok is home to a glittering array of temples, palaces and ancient architecture, representing the cultural and historical centre of the city. For anyone interested in the history and origins of this bustling city, a visit to the wide, tree-lined avenues of the Old City is a must.
This district is dominated by the famous Grand Palace. Scattered around it is a bountiful collection of ancient structures that will impress even long-time visitors to the city. Museums and art galleries are also prominent here, while the many old marketplaces are a fascinating glimpse into the past whether you're interested in shopping or not. Here are our not-to-be-missed attractions in Bangkok Old City.
Interested in this tour? Book it here.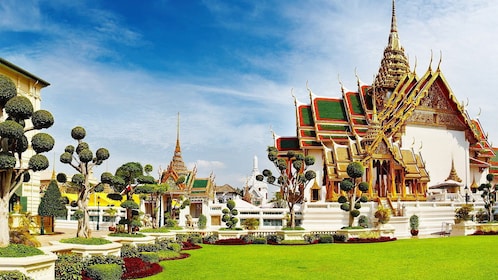 per traveler
Free cancellation
Book
The dazzling, spectacular Grand Palace is one must-see sight when visiting Bangkok. Built in 1782 – and for 150 years the home of the Thai King, the Royal court and the administrative seat of government – the Grand Palace of Bangkok is a grand old dame indeed. It continues to have visitors in awe with its beautiful architecture and intricate detail.
A strict dress code applies. After all, The Grand Palace with the Temple of the Emerald Buddha is Thailand's most sacred site. Remember, long pants and shirts with sleeves (no tank tops) for men and no see-through clothes or bare shoulders for women. Also, no bare feet (put on socks when wearing sandals or flip-flops). Read More...
Opening Hours: Daily from 8.30am to 3.30pm
Location: Na Phra Lan Road, Old City (Rattanakosin), Phra Nakhon, Bangkok 10200, Thailand
Tel: +66 (0)2 623 5500
Wat Pho (the Temple of the Reclining Buddha) is a must-do for any first-time visitor in Bangkok. Also known as Wat Phra Chetuphon, the temple is located behind the Temple of the Emerald Buddha and is one of the largest temple complexes in the city. The centrepiece here is the giant reclining Buddha that measures 46 metres long and is covered in gold leaf.
Wat Pho is an easy 10-minute walk from the Grand Palace, and it's recommended to visit Wat Pho second – even though the golden Buddha here is just as popular, many people don't take the time to wander around the rest of the complex so the experience tends to be far more relaxing. Read More...
Opening Hours: Daily from 8.30am to 6.30pm
Location: Maharat Road, Phra Nakhon, Bangkok 10200, Thailand
Tel: +66 (0)2 226 0335
The popular book The Beach famously described Khao San Road in Bangkok as 'the centre of the backpacking universe'. Judging by the truth-seeking travellers who converge here to shop, exchange tales and prepare for their next stint on the backpacker trail, it's a phrase that sums it up pretty much perfectly.
Packed into a 1km long strip are countless budget guesthouses and mid-range hotels, internet cafes, swanky bars and clubs, restaurants, massage parlours, travel agents, bookshops, market stalls, tattoo shops and much, much more. Read More...
Location: Talat Yot, Phra Nakhon, Bangkok 10200, Thailand
The Museum of Siam is a museum in Bangkok Old City that's set inside a very large neoclassical house. Even so, it's definitely not the usual display of historical artefacts and dusty mannequins you'd expect to find in such an antique building. In the reception area, wooden stairs, ceramic tiles and old-fashioned columns contrast with resolutely modern art and advanced technology.
The 2 elements blend with great harmony as designers use every possible way to challenge the traditional expectations you might have of a museum. From room to room, you'll be transported through all things Thai, from the very beginning of Ayutthaya to the daily life and highlights of Thai history, wars, Buddhism and finally the rapid entry into the modern world. Read More...
Opening Hours: Tuesday–Sunday from 10am to 6pm (closed on Mondays)
Location: 4 Sanam Chai Rd, Phra Borom Maha Ratchawang, Phra Nakhon, Bangkok 10200, Thailand
Tel: +66 (0)2 225 2777
Loha Prasat Temple was built in 1846 on request of King Nangklao (Rama III) and was inspired by 2 other similar temples found in India and Sri Lanka. The temple structure is 36 metres tall and supports 37 metal spires representing the 37 virtues toward enlightenment.
The temple is erected in a very unusual way with multiple concentric square levels built on geometrically aligned pillars. A relic of Lord Buddha is kept at the highest level. Don't miss the large white temples of Wat Ratchanaddaram surrounding Loha Prasat itself and admire the golden seated Buddha and the beautiful murals pairings and door carvings. Check out the popular amulet and statues market behind Loha Prasat. Read More...
Opening Hours: Daily from 9am to 5pm
Location: 2 Maha Chai Rd, Bowon Niwet, Phra Nakhon, Bangkok 10200, Thailand
Tel: +66 (0)2 224 8807
In the former grounds of the 18th-Century Wang Na Palace, Bangkok National Museum houses the largest collection of Thai art and artefacts in the country. It's definitely worth a visit, especially if visiting nearby Wat Phra Kaew or the Grand Palace.
Opened by King Rama V to exhibit the antiques and gifts bestowed to him by his father, the museum once held a reputation for being an ill-organised gathering of dusty relics. But now, with exhibits arranged into 3 areas consistent with Thai history and good English-language descriptions available, it's a great spot for learning about Thai arts while exploring Bangkok Old City. Read More...
Opening Hours: Wednesday–Sunday from 9am to 4pm (closed on Mondays and Tuesdays)
Location: Na Phra That Alley, Phra Borom Maha Ratchawang, Phra Nakhon, Bangkok 10200, Thailand
Tel: +66 (0)2 224 1402
Wat Saket, popularly known as the Golden Mount or 'Phu Khao Thong', is a low hill crowned with a gleaming gold chedi. Within, the 58-metre chedi houses a Buddha relic and welcomes worshippers all year round. The temple also hosts an annual temple fair in November, which lasts a week during Loy Krathong (also known as the Festival of Lights).
During the festival period, the massive stupa is draped in a bright-red cloth, with a candlelit procession to the top of the Golden Mount marking the start of the week-long festivity. Colourful lanterns and decorative flags as well as food vendors, fairground games and rides bring Wat Saket to life. At the top of the hill, you'll be surrounded by a wall of bells and panoramas of Bangkok Old Town. Read More...
Opening Hours: Daily from 8am to 5pm
Location: 344 Chakkraphatdi Phong, Ban Bat, Pom Prap Sattru Phai, Bangkok 10100, Thailand
The Queen's Gallery opened in 2003 in response to Her Majesty Queen Sirikit's initiative to create a permanent public space to exhibit and promote the works of both established and up-and-coming Thai artists.
Set in a 5-storey building, the gallery covers 3,700 square metres of minimalist space to showcase permanent as well as changing exhibitions. This gallery is highly recommended for art lovers.
Opening Hours: Thursday–Tuesday from 10am to 7pm (closed on Wednesdays)
Location: 101 Ratchadamnoen Klang Rd, Wat Bowon Niwet, Phra Nakhon, Bangkok 10200, Thailand
Tel: +66 (0)2 281 5360
Bangkok Flower Market (Pak Khlong Talad) is the biggest wholesale and retail fresh flower market in Bangkok. The market has all kinds of popular flowers and flora-related items, including roses, forget-me-nots, orchids, lilies and more.
Most of them are sold in packs of 50 or 100 flowers in each, and prices are amazingly cheap. Part of the Old City, Bangkok Flower market is located on Chak Phet Road near Saphan Phut or the Memorial Bridge. Read More...
Location: Wang Burapha Phirom, Phra Nakhon, Bangkok 10200, Thailand
How to get there: Taxi or Tuk Tuk
Bangkok's old town has an interesting history, and the most entertaining way to discover more about it is with a visit to the Rattanakosin Exhibition Hall. Here, you'll get to experience the many things that make Bangkok great through a series of film, music, computer displays and a guided tour.
If you have ever wanted to have more understanding of the palace, temples and neighbourhoods that make up Rattanakosin Island, this is the exhibition to visit. Read More...
Opening Hours: Tuesday–Sunday from 9am to 5pm (closed on Mondays)
Location: 100 Ratchadamnoen Avenue, Wat Bowon Niwet, Phra Nakhon, Bangkok 10200, Thailand
Tel: +66 (0)2 621 0044
Rate This Place:
( votes)