Our list of things to do in Bangkok's Riverside is full of top-quality landmarks, so much so that any trip to the Thai capital will feel seemingly incomplete without venturing to the majestic Chao Phraya River. As well as offering an escape from the traffic and congestion of downtown Bangkok, the Riverside has plenty of fascinating temples straddling its banks, quaint markets that pop up at night around the numerous ferry piers, and a whole host of fun activities throughout the area.
Many of the best attractions in Riverside Bangkok involve being on the water – fantastic cruises offer a unique perspective of the Chao Phraya and all the major landmarks, many of which are particularly spectacular when the riverside is lit up at night. You can find all of this, and much more, in our guide below.
Interested in this tour? Book it here.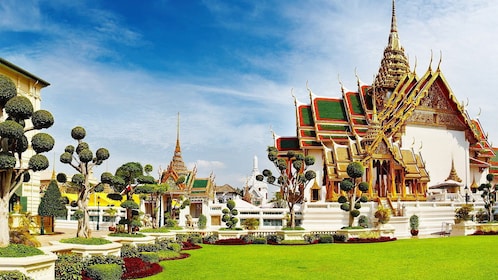 per traveler
Free cancellation
Book
The Grand Palace and Wat Phra Keaw are Bangkok's most famous, most visited, and probably most stunning landmarks. Built in 1782, the Grand Palace is the home of the Thai King, the Royal court and the administrative seat of government. Within the palace complex are several impressive buildings, one of which is Wat Phra Kaew. Known as the Temple of the Emerald Buddha, it contains the small but famous and greatly revered Emerald Buddha that dates to the 14th century. Read More...
Opening Hours: Daily from 8.30am to 3.30pm
Location: Na Phra Lan Road, Old City (Rattanakosin), Phra Nakhon, Bangkok 10200, Thailand
Tel: +66 (0)2 623 5500
Wat Arun is an iconic temple on the west (Thonburi) bank of the Chao Phraya river. Nicknamed the Temple of the Dawn, it's easily one of the most stunning temples in Bangkok, not only because of its riverside location but also because the design is very different from the other temples you can visit in Bangkok. Wat Arun is partly made up of colourfully decorated spires and stands majestically over the water. We would recommend spending at least an hour visiting the temple. Although it's known as the Temple of the Dawn, it's absolutely stunning at sunset, particularly when lit up at night. Even so, the quietest time to visit is early morning, before the crowds. Read More...
Opening Hours: Daily from 8am to 5.30pm
Location: 158 Wang Doem Road, Wat Arun, Bangkok Yai, Bangkok 10600, Thailand
Tel: +66 (0)2 891 2185
Wat Pho (or Wat Phra Chetuphon) is one of the largest temple complexes in the city. It's famed for its giant reclining Buddha that is 46 metres long and covered in gold leaf. You'll need to take your shoes off to enter, and if you'd like a little good luck, we recommend purchasing a bowl of coins at the entrance of the hall which you can drop in the 108 bronze bowls which line the length of the walls. Dropping the small pennies in makes a nice ringing sound and even if your wishes don't come true, the money goes towards helping the monks renovate and preserve Wat Pho. Read More...
Opening Hours: Daily from 8.30am to 6.30pm (massage available until 6pm)
Location: Maharat Road, Phra Nakhon, Bangkok 10200, Thailand
Tel: +66 (0)2 226 0335
Bangkok is famous for its series of canals and waterways which once served as the main form of transport. Today, the khlongs (canals in Thai) still serve commuters and travellers who want to get around town by boat. The canals in Thonburi offer you a chance to see a 'local' side of Bangkok. Pass by families enjoying lunch in their wooden homes, see children playing in the secluded streets alleys, and glide past traditional markets. Read More...
Sky Bar at Lebua Bangkok stands at almost 250 metres above sea level, offering impressive views of the Thai capital. Located in Silom, this rooftop bar is quite easy to find – after a 10-minute walk of the Saphan Taksin BTS Skytrain Station, look for a tall cream-coloured building with a gold dome on the roof. The bar is made even more famous after it was featured in Hollywood film, The Hangover Part II. If you arrive before Sky Bar opens, you can still have a drink and enjoy the view from Distil Bar, located on the 64th floor of Lebua Bangkok. This comfortable whisky bar has an outdoor terrace with a comfortable sofa area. Read More...
Opening Hours: Daily from 4pm to 1am
Location: 63rd Floor, Lebua at State Tower, 1055 Silom Road, Bangrak, Bangkok, 10500, Thailand
Tel: +66 (0)2 624 9555
Asiatique The Riverfront is a night market/mall complex with over 1,500 boutiques street food vendors alongside posh restaurants, beer gardens set next to sophisticated wine bars – not forgetting a massive Ferris wheel that towers over the riverside. Set on the banks of the Chao Phraya River, the running theme throughout is a bit of mishmash of retro decor alongside vintage props that are a tip of the hat to the site's long trade history, including a replica tram, clock tower, and ship hangars. Read More...
Opening Hours: Daily from 4pm to midnight
Location: 2194 Charoenkrung Road, Wat Phraya Krai, Bang Kho Laem, Bangkok 10120, Thailand
Tel: +66 (0)92 246 0812
Bangkok Forensic Museum offers a sinister exhibition for the morbid and travellers searching for something extremely unusual. Located inside the Siriraj Hospital on the west bank of the Chao Phraya River, if your vision of a museum is a pretty display of artistic or cultural artefacts, then you're in for a big surprise. From dead babies in tubes of formaldehyde to organs infected with tumours, this exhibit spares no punches when it comes to the graphic content. Read More...
Opening Hours: Wednesday–Monday from 10am to 5pm (closed on Tuesdays)
Location: Siriraj Hospital, 2 Wanglung Road, Bangkok Noi, Bangkok 10700, Thailand
Tel: +66 (0)2 419 2601
The Royal Barges Museum displays 8 of the Royal Barges of Thailand. These boats are reserved for auspicious ceremonies and state occasions like the very rare Royal Barge Procession. Each boat was carved meticulously from massive slabs of teak, decorated with mythical creatures and painted in bright shades of gold, red and blue. You can easily find the Royal Barges Museum near the Thonburi side, not far from Phra Pin Klao Bridge. Note that the barges might not be in the museum during or in preparation for the special ceremonies. Read More...
Opening Hours: Daily from 9am to 5pm
Location: 80/1 Rim Khlong Bangkok Noi Arun Amarin, Bangkok Noi, Bangkok 10700, Thailand
Tel: +66 (0)2 424 0004
Muay Thai Live: The Legend Lives at Asiatique Bangkok is an exciting theatrical show combining entertaining performances with the ancient martial art of Muay Thai boxing. Great for theatre enthusiasts, families or just anybody wanting to get an exhilarating insight into Thai culture, this 90-minute show left us impressed and eager to get into the ring ourselves. This Bangkok show runs from Tuesdays to Sundays at The Stage, a modern 600-seater theatre within the excellent Asiatique The Riverfront. Read More...
Opening Hours: Tuesday–Sunday from 8pm to 9.30pm (closed on Mondays)
Location: ASIATIQUE The Riverfront, 2194 Charoen Krung Rd, Bang Kho Laem, Bangkok 10120, Thailand
Tel: +66 (0)2 108 5999
Wat Kalayanamit is often overlooked by tourists, despite dominating the western bank of the Chao Phraya River with its giant temple structure. The nearby Wat Arun is much more famous and acts as a magnet, drawing the crowds away from many Riverside Bangkok attractions and temples. If you want a more tranquil, less touristy alternative, head to Wat Kalayanamit, which is particularly famous for its enormous seated golden Buddha inside the main building.
Opening Hours: Daily from 8pm to 5pm
Location: New Arun Amarin Rd, Wat Kanlaya, Thonburi, Bangkok 10600, Thailand
Rate This Place:
( votes)