Bangkok's Riverside is bursting its banks full of top quality attractions; so much so that any trip to the Thai capital will feel seemingly incomplete without venturing to the majestic Chao Phraya River at least once. As well as offering an escape from the traffic and congestion of downtown Bangkok, the Riverside is full of fascinating temples that straddle its sides, quaint markets that pop up at night around the numerous ferry piers and a whole host of other fun attractions throughout the area.
Many of the best attractions at Riverside Bangkok involve being on the water itself. Fantastic cruises offer an alternative perspective of the Chao Phraya and all the major landmarks, particularly spectacular when the riverside is lit up at night. You can find all of this, and much more, in our list of the Top 10 Attractions near Riverside Bangkok.
Interested in this tour? Book it here.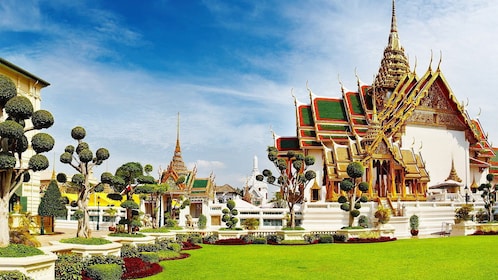 per adult
Free cancellation
Book
The Grand Palace and Wat Phra Keaw (Wat Phra Keaw is a temple inside the Grand Palace), are the most famous, most visited, and probably most stunning attractions in Bangkok.
Built in 1782, and for 150 years the home of Thai Kings and the Royal Court, the Grand Palace continues to welcome millions of visitors a year, both tourists coming to see one of Bangkok's most prized possessions, as well as Buddhist worshippers coming to pay respect to the deities above. Wat Pra Kaew inside the stunning temple complex enshrines Phra Kaew Morakot (more commonly referred to as the Emerald Buddha), the sacred Buddha image carved from a single block of emerald. There is a small fee for entrance for foreigners, or you can really make the most of this temple experience with a guided tour (below). Read More...
Any sightseeing itinerary along the Chao Phraya River cannot possible ignore Wat Arun. Along with the Grand Palace, this ancient temple is one of Bangkok's most iconic temples, thanks to its stunning riverside location and unique design with its towering central pagoda that rises over the river. Also referred to as Wat Chaeng and sometimes romantically called to as the 'Temple of Dawn', this breathtaking Buddhist monument welcomes millions of visitors who visit Bangkok every year, meaning it does sometimes get a little busy (arrive early for to beat the crowds). Entrance is only 100 baht and you can also climb the steep steps for some great views over the Chao Phraya River.
To get there, hop on a river boat from the opposite side at Tha Thien Pier (about 3 baht to cross). Alternatively, you can book a private tour and explore Wat Arun whilst making your way through Thonburi's famous series of canals. Read More...
Wat Pho (the Temple of the Reclining Buddha), or Wat Phra Chetuphon, is located behind the Temple of the Emerald Buddha and a must-do for any first-time visitor in Bangkok. It's one of the largest temple complexes in the city and famed for its giant reclining Buddha that measures 46 metres long and is covered in gold leaf. It's an easy ten minute walk between here and the Grand Palace, and we recommend coming to Wat Pho second, because even though the golden Buddha here is just as popular many people don't take the time to wander around the rest of the complex so the experience tends to be far more relaxing. This is also a great place to get a traditional Thai massage. Read More...
Opening Hours: Daily 08:00 - 17:00
Location: Maharat Road. Close to the river (about a half mile south of the Grand Palace), Old City (Rattanakosin)
Price Range: entrance fee is 100 baht
Bangkok's vast series of canals (khlongs) that once were part of the city's main form of transport now act as a major tourist attraction in the city, whilst also still serving local commuters to get around the city.
You can jump on one of the commuter boats and make your own way around, although this can be a bit of a daunting experience to someone new to Bangkok, as the khlong routes are often confusing and the boasts can get packed. For a more tranquil, but equally rewarding experience, you can try a private khlong cruise, which will whisk you past secluded streets, makeshift waterside homes, untouched temples and quaint old markets without a foreign visitor in sight. Find out more about these tours below. Read More...
Hitting the Sky Bar at the Lebua State Tower is one of the first things visitors to Bangkok do when they arrive in the city. And there are plenty of reasons why.
Although now sometimes a little overcrowded due to its ever-growing popularity (thanks in no small part to the boys from The Hangover II who filmed there), the rooftop bar offers unique views across Bangkok from 63 storeys up. You get a full 360 degree glimpse of the city in all of its glory, especially the Chao Phraya River which flows beneath the shadow of the looming Lebua Tower. The main restaurant at the top, Sirocco, is also worth a splurge too with some of the most talented chefs in town plying their trade in the kitchen, creating some breathtaking dishes with some of the finest imported ingredients around. Read More...
Opening Hours: 18:00 - 00:00
Address: The Dome at Lebua, Silom Road, Bangrak, Bangkok, Thailand, 10500
Set on the banks of the Chao Phraya River, Asiatique is a night market/mall complex with a whole host of local and international fashion brands, street food vendors alongside posh restaurants, beer gardens set next to sophisticated wine bars – not forgetting a massive Ferris wheel that towers over the riverside.
Built on the site of a former international trade port, Asiatique is split across four zones that vaguely separate the different clothes, entertainment and eating areas. The running theme throughout is a bit of mishmash of retro decor alongside vintage props that are a tip of the hat to the site's long trade history, including a replica tram, clock tower and ship hangars. Get there by taking the free shuttle ferry from Sathorn Central Pier below Saphan Taksin BTS Station. Read More...
Opening Hours: 17:00 - 24:00
Address: Chareonkrung Soi 74-76
Depending on how you look at it, The Forensic Museum at the Siriraj Hospital is one of the most educational – or terrifying - things you can do in Bangkok. From dead babies in tubes of formaldehyde to humans sawn in half, Siriraj Forensic Museum is packed full of morbid content. All the exhibits and specimens are used (or were once used) by the medical students at this famous hospital in Bangkok, and now lie on display for anyone to see.
To get to the Forensic Museum, take the ferry to the Wang Lang Pier, walk inside the hospital and ask any of the staff where the museum is located. Alternatively, tell your taxi to head to Siriraj Hospital. Read More...
Opening Hours: Mon - Sat 09:00 - 16:00
Location: Inside Siriraj Hospital Bangkok (Wang Lang Pier)
The Royal Barges Museum in Bangkok is home to some of the most spectacular canal boats you'll ever see, each one painstakingly carved from huge slabs of teak wood, decorated with mythical creatures and painted in bright shades of gold, red and blue.
All the barges here are still fully operational, but usually only depart the museum for special occasions such a royal processions along the river. There is also a sizable collection of less flamboyantly decorated barges at the back, which nevertheless still offer a great insight into the rich history of this hugely important form of transportation in Bangkok. To find the museum - which is more like a big warehouse on water - jump on the Chao Phraya Express Boat to Wang Lang Pier (N10) and walk from there. Read More...
Opening Hours: 09:00 - 17:00
Location: Khlong Bangkok Noi (Thonburi side, near Phra Pin Klao Bridge)
Tel: +66 (0)2 424 0004
Muay Thai Live at Asiatique Bangkok is an exciting show combining theatrical performances and the ancient martial art of Muay Thai boxing. Expect an engaging plot taking you through ancient Siam all the way up to modern day Bangkok, with plenty of flying kicks, traditional Muay Thai moves, powerful body punches and a touch of romance and comedy thrown in for good measure too.
The whole 90 minute show is perfectly choreographed, although there is nothing fake about the Muay Thai moves and sound of skin hitting skin during the numerous fight scenes. The show runs from 20:00 at The Stage, a modern 600-seater theatre within Asiatique The Riverfront night market in Bangkok. You can book your tickets with us below. Read More...
Opening Hours: Mon - Sat 20:00 - 21:30
Address: THE STAGE Theatre, Asiatique Bangkok, Chareonkrung Soi 74-76
Despite dominating the western bank of the Chao Phraya River with its giant temple structure, Wat Kalayanamit is often overlooked by tourists, city guides, and even locals. The nearby Wat Arun is much more famous and acts as a magnet, drawing the crowds away from some of the other nearby Thonburi attractions and temples. If you want a more tranquil, less touristy alternative, head to Wat Kalayanamit, a temple particularly famous for its enormous seated golden Buddha inside the main building.
Getting to Wat Kalayanamit in Thonburi is easy: in fact, it even has its own pier. Take a ferry there from the opposite side at Ratchinee Pier or hop on one of the many the Chao Phraya express boats that make their way up and down the river every day (and ask for 'Wat Kala-yan-amit'.)
Opening Hours: 06:00 - 21:00
Location: At Kalayanamit Pier
Rate This Place:
( votes)