Bangkok's Riverside is home to some of the best restaurants in town, many of which take advantage of the cool breezes, sumptuous views across the water and sit in ideal spots next to the Chao Phraya River's many piers and luxury hotels.
The stretch of the river really offers a great escape from Bangkok's often oppressive traffic and inner-city stuffiness. Hugging the banks of the Chao Phraya River you'll find old temples, wooden houses and old buildings and warehouses as well as a whole host of stunning hotels offering great river views. Make your way up and down the water on one of the many shuttle boats and choose among these best restaurants in Bangkok's Riverside for a memorable dining experience.
Interested in this tour? Book it here.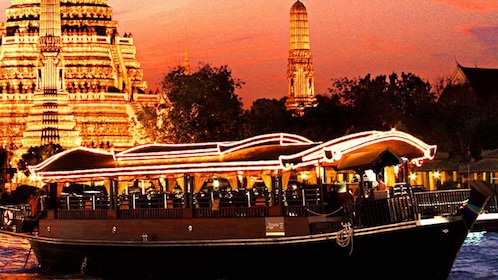 per adult
Free cancellation
Book
Steve Cafe and Cuisine well and truly fell into Bangkok's list of 'hidden gems' when it first opened in 2012. With its nondescript entrance and out-of-the-way location tucked away beside the Chao Phraya River, Steve Cafe gets packed out most nights drawing in locals, expats and tourists with their delightful views, tasty Thai menu and quaint little dining space.
This riverside restaurant delivers on the picturesque views, but the crowds don't just flock for that reason alone. All dishes are fresh, and the menu has an emphasis on both classic Thai as well as some more unusual offerings from around The Kingdom. To find it, take a boat to Dhevet Pier and walk towards Thevarakunchong Temple. Read More...
Opening Hours: 11:30 – 23:00
Address: 68 Sri Ayudhaya Road, Soi Sri Ayudhaya 21, Bangkok
Tel: +66 (0) 81 868 0744, +66 (0) 2 281 0915, +66 (0) 2 280 2989
Renowned Mei Jiang Restaurant offers fine Cantonese food and a refined dining atmosphere. The restaurant sits on the ground floor of The Peninsula Hotel by the Chao Phraya River. Just like the whole hotel, this restaurant presents some rather stylish surroundings and you'll rarely hear a bad word said about their delectable signature dim sum dishes.
Although set inside, the large full-length windows looking out over a garden and the majestic Chao Phraya River offer a spectacular view to enjoy while tucking into your lunch or dinner. Aside from their dim sum, other tantalising offerings include roast duck, deep-fried snow fish with salt and chilli, and the tenderloin beef with pepper paste. Read More...
Opening Hours: 12:00 - 14:30, 18:30 - 22:30
Address: 333 Charoennakorn Road?
Tel: +66 (0) 2 861 2888
Le Normandie is situated in the Garden Wing of The Mandarin Oriental Bangkok and offers a full a la carte French menu that specialises in exemplary seafood and meat dishes. Even so, there's always an alternative but no-less-exquisite set menu, both at lunchtime and dinner.
It isn't cheap but it's well worth splashing out for a special occasion, especially for a memorable moment in Bangkok's Riverside area. Read More...
Opening Hours: Lunch 12:00 - 14:00; Dinner 19:00 - 22:00 (Closed Sunday)
Address: Mandarin Oriental Bangkok, 48 Oriental Avenue
Tel: +66 (0)2 659 9000 ext 7390-4
Sala Rim Nam is more than just a riverside restaurant – it's a whole cultural experience, with exciting entertainment in the form of Thai dance and a mock battle. Pair this together with some excellent fine-dining, all against the backdrop of the stunning Chao Phraya River, and you're bound to have a memorable dining experience.
Located at the Mandarin Oriental Hotel, Sala Rim Naam is set in a gorgeous Thai-style pavilion is reminiscent of an elaborately decked northern Thai sala, with high ceilings, pitched, sweeping roof and polished teakwood finishes. The dinner and show usually runs from 7.30pm to 10pm every night and it's recommended to book ahead. Read More...
Opening Hours: Lunch 12:00 – 14:30; Dinner 19:00 - 22:30, Performance 20:15 – 21:30
Address: Mandarin Oriental Bangkok, 48 Oriental Avenue, Bangkok 10500
Tel: +66 (0)2 659 9000 ext 7330
Arun Residence is a restaurant opposite the majestic Wat Arun temple and offers a most relaxing way to enjoy one of the most iconic views in Bangkok. This stunning restaurant sits directly opposite the temple and doesn't disappoint on the food front either. It services up some delectable Thai classic using slightly more rare ingredients than you'd find on the streets.
Examples of this include their pomelo salad, as well as their frog's legs with chilli and pepper. You'll also find European-style dishes such as their duck confit which satisfy as much as their Thai offerings, just with slightly milder flavours. Read More...
Opening Hours: Mon – Thurs 11:00 - 22:00, Fri - Sun 11:00 - 23:00
Address: 36-38 Soi Pratoo Nok Yoong, Maharat Road??
Tel: +66 (0) 2 221 9158
Sala Rattanakosin restaurant offers one of the most iconic views on the riverside, directly opposite Wat Arun (The Temple of Dawn). The owners of this boutique hotel have made the most of this privileged location by constructing the entire side of the property out of glass.
As well as a 15 room hotel, Sala Rattanakosin is actually made up of several areas: an alfresco riverside deck, a modish second-floor restaurant replete with bare brick and brushed concrete, and a 5th-floor rooftop. If you're coming to dine, the menu is pretty much split down the middle with Thai classics and some Mediterranean-style western dishes. Read More...
Address: 39 Maharat Road, Tha Thien, Bangkok (Behind Wat Pho)
Tel: +66 (0)2 622 1388
Sheepshank Public House is hidden down a small alleyway and finding it is much easier by boat. Disembark at Pier no 13 and spot the bright restaurant lights glowing across the water of the Chao Phraya. Sheepshank's interior has a distinctly industrial feel to it, with plenty of black metal fixtures contrasting the warm wooden tones throughout.
The American theme is not only replicated by the décor but also the attire of the servers as well as some aspects of the food and drinks menu. It's difficult to categorise the cuisine here but their popular creations include crab and apple salad, mushroom risotto with Lao pine nuts as well as their more meaty oxtail stuffed tortellini and coffee-rubbed beef tenderloin. Read More...
Opening Hours: Tue - Sun 18:00 – 24:00?
Address: 47 Phra Arthit Road, 10200?
Benihana is a Japanese Restaurant located at the popular Anantara Riverside Resort & Spa. The restaurant offers diners 2 of Japan's most popular dining options: sushi and teppanyaki (hot plate cooking). Benihana has become famous for its huge signature sushi rolls and their outgoing teppanyaki chefs cook with flair and personality right in front of your table.
Since starting in New York in the 1960s, this chain and has spread to several countries around the world with its unique take on Japanese cuisine, where delicious food is complemented by a fun and frivolous atmosphere. The restaurant is located in the forested grounds of the Anantara Riverside Resort, alongside the Chao Phraya River. Read More...
Opening Hours: Lunch 11:30 – 14:30, Dinner 18:00 – 22:30?
Address: Ground Floor, Anantara Riverside Resort, 257/1-3 Charoennakorn Road, Thonburi, Bangkok
Tel: +66 (0) 2 476 0022
9
Flow at the Millennium Hilton Bangkok
For some luxurious riverside dining in Bangkok, Flow at the Millennium Hilton Bangkok is up there with the best. The large open-plan dining area has 2 sections; a brightly lit indoor space as well as an outdoor terrace that's great for some sumptuous riverside views.
This all-day restaurant has a vast menu of international treats, as well as Thai and other Asian delights. Four open kitchens serve up breakfast, lunch and dinner and there are regular special events including riverside dancing from the nearby Patravadi Theatre Group (Thursday evenings) as well as wine and cheese events (Friday nights). Find Flow restaurant on the ground floor of the Millennium Hotel, best reached by taking the river ferry to Klong San Pier (or just ask your taxi driver for the hotel itself.)
Opening Hours: Buffet Breakfast 06:00 - 10:30, Buffet Lunch 11:30 - 14:30, Buffet Dinner 18:00 - 23:00, Sunday Brunch 12:00 - 15:00??
Address: Lobby Level, Millennium Hilton Bangkok, 123 Charoennakorn Road
Tel: +66 (0) 2 442 2000
Dining at the Royal Orchard Sheraton's Thara Thong is a distinctly traditional Thai affair. The floor-style seating tables are reminiscent of the Royal Court (table seating is also available) and the décor features plenty of polished teakwood, Thai designs and artwork in keeping with the whole feel of the place.
The menu doesn't diverge from the Thai theme either, with local favourites including their king prawns with chilli and garlic, steamed sea bass, range of coconut-based soups and curries all impressing us. The Chao Phraya setting, impeccable Sheraton service and rather refined interior all earn Thara Thong a top spot among the favourite riverside restaurants in Bangkok. Read More...
Opening Hours: 18:00 - 22:30?
Address: Royal Orchid Sheraton Hotel & Towers, 2 Charoen Krung Road Soi 30??
Tel: +66 (0) 2 266 0123?
Rate This Place:
( votes)